Welcome to the Garfield Park Master Gardener Association (GPMGA) site.
The goals of the GPMGA are to share knowledge about gardening with our members and others and offer volunteer opportunities.
GPMGA Meetings and Locations
Next GPMGA Meeting:   November 14th
Dana Altum, of Altum's Garden Center, will present How to Create a Harvest Porch Pot and Transition to a Holiday Porch Pot on November 14 (at 6:30 p.m.) at the Garfield Park Conservatory.
Dana is the owner of Altum's Garden Center, an independent garden center for Indianapolis for more than 50 years. Planting, gardening and growing is in her blood—Dana's father, Bob, founded Altum's, first as a local landscape company. Then, he transformed the company into a retail garden center destination.
Dana was learning and loving the business for as long as she can remember. Today, thanks to Dana's vision, people of all ages turn to Altum's for ideas and stylish, convenient plants and services, including designer-created Grab & Go Porch Pots, 4 Seasons of Color container subscriptions, custom container planting, DIY Make & Take Workshops, Snapshot Consultations and Click to Car online ordering and curbside pick-up.
We will be auctioning Dana's creative porch pot; so, bring cash and be prepared for a spirited bidding war!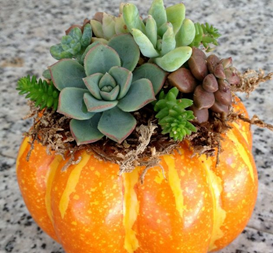 Meetings occur the 2nd Wednesday of the month February through December and feature a program followed by snacks and a business meeting. With a few exceptions, we meet at the Garfield Park Conservatory meeting area with entrance by the Children's Garden. Exceptions include off-site field trips, typically in April and September.  Also, our annual picnic is held in July at the shelter near the Arts Center in Garfield Park.
If you require an accommodation or special assistance to attend these meetings due to a disability, please contact us at 317-275-9286. Some accommodations may require a 2-week notice.