Welcome to the Garfield Park Master Gardener Association (GPMGA) site.
The goals of the GPMGA are to share knowledge about gardening with our members and others and offer volunteer opportunities.
GPMGA Meetings and Locations
Next GPMGA Meeting:  August 14
Eric Murphy of Shamrock Farm will speak on Growing Mushrooms at the Garfield Park Master Gardeners' next meeting at 6:30 p.m. on Wednesday, August 14, at the Garfield Park Conservatory.
We will learn about edible mushrooms during his presentation. Not only will Murphy speak about growing mushrooms but also will give culinary tips and have inventory with him.
Eric began growing vegetables about 10 years ago, eventually supplying Green Bean Delivery, farmers markets, chefs and niche retail outlets. About four years later, he started growing shiitake mushrooms. A couple of years after that, Eric phased out the vegetables to concentrate on mushroom growing.
Gradually, he learned how to grow more varieties and currently offers six different kinds – shiitake, blue and yellow oyster, lion's mane, crimini and portabello.
In 2017, Eric took a leap and built a new 4,800 sq. ft. building where he exclusively grows mushrooms.  This move allowed him to increase his customer base, to expand from one farmers market to four, and to provide for future growth. Shamrock Farm is located southeast of Indianapolis near Arlington in Rush County.
In addition to growing mushrooms, Eric has two adult children and has been an Indianapolis firefighter for over 30 years. For more information about Shamrock Farm, check out its Facebook page.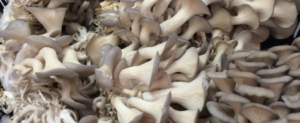 Meetings occur the 2nd Wednesday of the month February through December and feature a program followed by snacks and a business meeting. With a few exceptions, we meet at the Garfield Park Conservatory meeting area with entrance by the Children's Garden. Exceptions include off-site field trips, typically in April and September.  Also, our annual picnic is held in July at the shelter near the Arts Center in Garfield Park.
If you require an accommodation or special assistance to attend these meetings due to a disability, please contact us at 317-275-9286. Some accommodations may require a 2-week notice.