Welcome to the Garfield Park Master Gardener Association (GPMGA) site.
The goals of the GPMGA are to share knowledge about gardening with our members and others and offer volunteer opportunities.
GPMGA Meetings and Locations
Next GPMGA Meeting:  March 13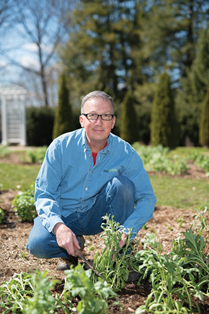 Irvin Etienne returns to present at the March 13 meeting with a program teasingly titled, The Greatest Most Fantastical New Plant Ever (Maybe). Members can expect to not only be entertained but also learn about some interesting cultivars of perennials, annuals, elephant ears, woodies and fall-planted bulbs.
For more than 20 years, Irvin has worked at the Indianapolis Museum of Art (now Newfields) and currently is the Horticultural Display Coordinator there. In that position, he helps horticulturists with their plant selection and garden design as well as designing and maintaining his own areas, such as the Sutphin Fountain and parts of the Sutphin Mall, the William and Lucy Wick Cutting Garden, and Nonie's Garden, a circular bed just off the entry pavilion.
While working throughout the IMA gardens and grounds requires knowledge and skill with all manner of woody and herbaceous plants, Irvin lusts for and loves the tropical species most of all.  "I plant tropicals. Lots of tropicals," says Irwin.  I like lots of intense color and fabulous foliage."
Irwin encourages gardeners to try to plant one new type of plant every year—minimum.  "Even if it's simply a different version of what you usually plant," Irwin says. "You learn something every time that will make you a better gardener."
He is the recipient of Gold and Silver awards in Electronic Media Writing from the Garden Writers Association for his blogging at the IMA. In his own Fountain Square garden, everything from cannas to eggplants to magnolias coexist in a lush jungle fed by manure from his own rabbits and chickens. Obviously a product of the Midwest, Irvin could be considered, well, a simple farm boy who likes shiny sparkly things. And is easily distracted.
Meetings occur the 2nd Wednesday of the month February through December and feature a program followed by snacks and a business meeting. With a few exceptions, we meet at the Garfield Park Conservatory meeting area with entrance by the Children's Garden. Exceptions include off-site field trips, typically in April and September.  Also, our annual picnic is held in July at the shelter near the Arts Center in Garfield Park.
If you require an accommodation or special assistance to attend these meetings due to a disability, please contact us at 317-275-9286. Some accommodations may require a 2-week notice.