Welcome to the Garfield Park Master Gardener Association (GPMGA) site.
The goals of the GPMGA are to share knowledge about gardening with our members and others and offer volunteer opportunities.
GPMGA Meetings and Locations
Upcoming Field Trip to Cool Ponds on June 13
901 Hanna Ave., Indianapolis 46227; 317-786-3670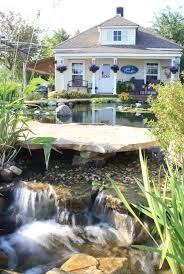 The Garfield Park Master Gardeners will travel to Cool Ponds for its next meeting at 6:30 p.m. on Wednesday, June 13.
Cools Ponds offers lovely water features and water plants. During the group's visit, Master Gardeners will receive a tour, a demonstration of creating a container water garden and an opportunity to purchase water plants.
Cool Ponds has been in the landscape business since 1991. Steve and Staci Wicker own and operate this family business with two of their adult children, Kasey and Steven. They purchased their Hanna Avenue location in 2004 and officially became Cool Ponds.
Since then, they have become central Indiana's pond experts. They teach classes, do pond installations complete with plantings, patios and shade structures. They also organize biannual pond tours in the Indianapolis community, which are great fun and an opportunity to gather ideas—just like other garden tours. This year's self-guided pond and garden tour is Saturday, June 23.
Meetings occur the 2nd Wednesday of the month February through December and feature a program followed by snacks and a business meeting. With a few exceptions, we meet at the Garfield Park Conservatory meeting area with entrance by the Children's Garden. Exceptions include off-site field trips, typically in April and September.  Also, our annual picnic is held in July at the shelter near the Arts Center in Garfield Park.
If you require an accommodation or special assistance to attend these meetings due to a disability, please contact us at 317-275-9286. Some accommodations may require a 2-week notice.