Welcome to the Garfield Park Master Gardener Association (GPMGA) site.
The goals of the GPMGA are to share knowledge about gardening with our members and others and offer volunteer opportunities.
GPMGA Meetings and Locations
GPMGA Meeting: May 9
The Garfield Park Master Gardeners will next meet at 6:30 p.m. on Wednesday, May 9, at the Garfield Park Conservatory. Amy Mullen, Lead Designer and Urban Farmgirl for Spotts Garden Service, will speak on Natives for Your Garden.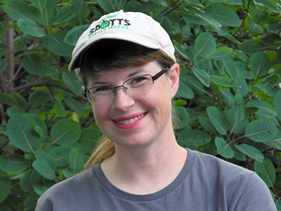 Amy graduated from DePauw University with a degree in physics, a life-long love of theatre and a problem-solving style that combines the approaches from both those fields. A Master Gardener and long-time communications professional, Amy also blogs and presents on gardening topics.
Amy designed her front-yard food garden to integrate permaculture principles with a traditional potager style. (A potager is a cook whose specialties are soup, broth and bouillon.) Her small urban garden serves as a combination mini-farm and ongoing experiment.
As a professional garden designer, she creates organic gardens that reflect the people who live and play in them. These earth-friendly gardens are individually crafted to suit the site, making use of sustainable strategies to solve design dilemmas.
With twenty years of communications experience across a range of not-for-profits and creative enterprises, she crafts stories that encourage people to get in touch with old-fashioned skills. She teaches sustainable skills with humor and style in one-on-one garden coaching, in seminars and in a blog at www.spottsgardens.com.
Established in 2002 by life-long gardener Terry Spotts, Spotts Garden Service works to create "a greener shade of garden". Their staff bring a wide range of experience and talents to every garden. They specialize in urban gardens, kitchen gardens and edible landscapes, and ecological design and maintenance.
Meetings occur the 2nd Wednesday of the month February through December and feature a program followed by snacks and a business meeting. With a few exceptions, we meet at the Garfield Park Conservatory meeting area with entrance by the Children's Garden. Exceptions include off-site field trips, typically in April and September.  Also, our annual picnic is held in July at the shelter near the Arts Center in Garfield Park.
If you require an accommodation or special assistance to attend these meetings due to a disability, please contact us at 317-275-9286. Some accommodations may require a 2-week notice.