Welcome to the Garfield Park Master Gardener Association (GPMGA) site.
The goals of the GPMGA are to share knowledge about gardening with our members and others and offer volunteer opportunities.
GPMGA Meetings and Locations
Next GPMGA Meeting:  May 8
Members will tour the Garfield Park Conservatory at the next GPMGA meeting at 6:30 p.m. on Wednesday, May 8.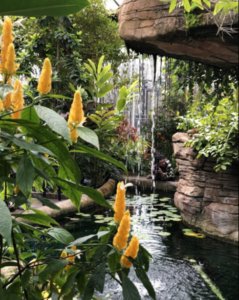 GPMGA members—who typically conduct the public tours on weekends—will lead the tours at Wednesday's meeting.  Afterwards, the GPMGA members will discuss preparations of the upcoming plant sale as part of the scheduled members' meeting.
Throughout the year, Garfield Park Conservatory offers tours at 2:30 p.m. on the second and fourth Saturdays of each month.  (Groups also may arrange for tours at other times by appointment.)  The typical tour lasts one hour.
The following people currently serve (or have served) as tour guides:  Victoria Metheaux, Boynton Robson, Bill Heaton, Judy Martin, Barb Jablonski, Sue Hoyt, John Montgomery, Oren Cooley and Arlene Bow.
The Garfield Park Conservatory houses 10,000 sq. ft. of tropical flora, including many food plants such as chocolate and bananas.  Educational programs, workshops and displays change throughout the year, including annual shows of spring bulbs, orchids and poinsettias.
Among the conservatory's highlights are the white bird of paradise, the cacao tree, the cycad (or sago palm), the Bismark palm, a powder puff tree, a Guinea chestnut, orchids (including the vanilla orchid), pitcher plants, a cinnamon tree and the shaving brush tree.
For more information, visit www.garfieldgardensconservatory.org.
Bring Your Tools!
The GPMGA needs help pruning and prepping the plants donated by Sullivan Hardware for this year's plant sale.
A special pruning session will occur from 3:00 to 6:00 p.m. on Wednesday, May 8, prior to the GPMGA monthly meeting.
E-mail Kay Martin-Pence at guitargirl929@gmail.com if you plan to help—even for part of that time.
Reminder . . .
If you have not renewed, please send in your membership to the Garfield Park Master Gardener Association.  Dues are $15.00 per year and help pay for special activities, speakers and donations to community projects.
Meetings occur the 2nd Wednesday of the month February through December and feature a program followed by snacks and a business meeting. With a few exceptions, we meet at the Garfield Park Conservatory meeting area with entrance by the Children's Garden. Exceptions include off-site field trips, typically in April and September.  Also, our annual picnic is held in July at the shelter near the Arts Center in Garfield Park.
If you require an accommodation or special assistance to attend these meetings due to a disability, please contact us at 317-275-9286. Some accommodations may require a 2-week notice.