Welcome to the Garfield Park Master Gardener Association (GPMGA) site.
The goals of the GPMGA are to share knowledge about gardening with our members and others and offer volunteer opportunities.
GPMGA Meetings and Locations
Next GPMGA Meeting: February 13
There's always something happening at Garfield Park – whether it's an orchid show, Sweets for Your Sweetie on Valentine's Day, Conservatory Crossing during the holidays, weddings, farmers market, and much more. Join us February 13 to find out what goes on behind the scenes at Garfield Park to make its events and displays happen.
Susan Micks, Interior Horticulturist, and Elizabeth Schleicher, Assistant Conservatory Manager and Education Coordinator, are collaborating on a presentation that will take us through the seasons and the programs at the park. Susan will present at the February meeting.
Before joining the Garfield Park staff, Susan worked at White River Gardens where her former supervisor, Duane Martin, taught her the importance of editing the landscape. As she told Indianapolis Monthly magazine in 2015, "That may mean pruning a tree to allow more light to the plants under it, or finally pulling a plant that doesn't perform well in your garden. When I walk through the conservatory, my mind is always thinking, what needs to go so that this will look better?"
As part of her conservatory responsibilities, Susan also chooses which insects to release to keep pests at bay. When not tending to the interior landscape, she assists with keeping the 3½-acre Sunken Gardens in pristine, photo-ready shape.
For more information about the programs and events at Garfield Park, go to www.garfieldgardensconservatory.org/copy-of-programsevents.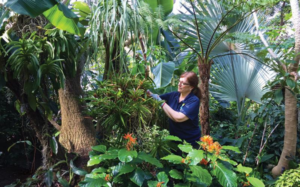 Meetings occur the 2nd Wednesday of the month February through December and feature a program followed by snacks and a business meeting. With a few exceptions, we meet at the Garfield Park Conservatory meeting area with entrance by the Children's Garden. Exceptions include off-site field trips, typically in April and September. Also, our annual picnic is held in July at the shelter near the Arts Center in Garfield Park.
If you require an accommodation or special assistance to attend these meetings due to a disability, please contact us at 317-275-9286. Some accommodations may require a 2-week notice.