Welcome to the Garfield Park Master Gardener Association (GPMGA) site.
The goals of the GPMGA are to share knowledge about gardening with our members and others and offer volunteer opportunities.
GPMGA Meetings and Locations
Next GPMGA Meeting:   October 10
Jo Ellen Meyers Sharp will present Once Upon a Plant .  .  . Stories of Plant Names at the next GPMGA meeting on October 12 (at 6:30 p.m.) at the Garfield Park Conservatory.  She will share tales of how some plants got their common names and how their traits are revealed by their scientific monikers.
Jo Ellen Meyers Sharp, a 25-year veteran of newspaper journalism, owns Write for You! LLC, a freelance writing and editing business. She is a regular contributor to Indiana Gardening and, until recently, was editor of Iowa Gardener, Michigan Gardening, Minnesota Gardener and Wisconsin Gardening magazines. She has been writing a weekly gardening column for The Indianapolis Star since 1989 and is a frequent guest on television, radio and web broadcasts.
An Advanced Master Gardener, she is a garden coach and has an all-season container planting business. For nearly 20 years, she has worked at a large, independent garden center in Indianapolis, including full time as a buyer of perennials, trees and shrubs, and now part time seasonally in spring.
A popular, five-star rated speaker, she's co-author of the Indiana Gardener's Guide, author of The Visitor's Guide to American Gardens and contributor to Oxford Companion to the Garden and Phaidon's The Gardener's Garden.
Jo Ellen is vice president of GWA: The Association for Garden Communicators; a member of the Board of Directors of the Horticultural Society of Newfields (formerly Indianapolis Museum of Art); a member of Indiana Landmarks Cultural Landscape Committee; and a member of GreatGardenSpeakers.com.
For more information, visit www.hoosiergardener.com or contact Jo Ellen at JoEllen@hoosiergardener.com.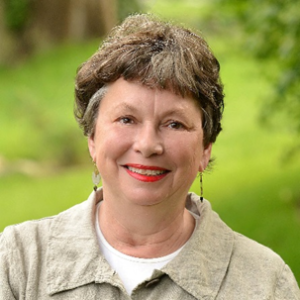 Meetings occur the 2nd Wednesday of the month February through December and feature a program followed by snacks and a business meeting. With a few exceptions, we meet at the Garfield Park Conservatory meeting area with entrance by the Children's Garden. Exceptions include off-site field trips, typically in April and September.  Also, our annual picnic is held in July at the shelter near the Arts Center in Garfield Park.
If you require an accommodation or special assistance to attend these meetings due to a disability, please contact us at 317-275-9286. Some accommodations may require a 2-week notice.